THE COMPLETE STEP-BY-STEP HEALING SYSTEM, I USED TO HEAL MY BODY & CHANGE MY RELATIONSHIP WITH MYSELF!
The Hormone Healing System is more than just your complete road map to natural hormone balance. It teaches you how to balance your hormones and address those oh-so-common signs of adrenal fatigue, PMS, painful periods, weight gain and unruly menstrual cycles, and most importantly, it's a step-by-step guide on how to take back control of your body, your thoughts, and your life.
This program is different from any other natural hormone healing or balancing courses out there as you will soon discover. Along with naturopathy supplements and natural hormone balance herbs that you have to take, you will be inundated with information and teachings on the best natural hormone balancer, colon cleansing techniques, and liver care, among others.
ARE YOUR HORMONES IMBALANCED?
IF YOU IDENTIFY WITH ANY OF THE FOLLOWING, THE HORMONE HEALING SYSTEM IS FOR YOU!!!
SO, WHAT EXACTLY IS THE HORMONE HEALING SYSTEM?
THE HORMONE HEALING SYSTEM – $999
10 X FORTNIGHTLY PAYMENTS OF $100 OVER 20 WEEKS
YOUR INVESTMENT INCLUDES:
LIFETIME ACCESS:
 Online eCourse & Education Portal – The Hormone Healing System
NATUROPATHIC CONSULTATION
1 x 60 minute Naturopathic Consultation (Phone/Video) with Stacey to individualise your healing journey and customize your healing based on your personal health goals and health conditions. Includes professional prescription, personalised treatment plan, referral for any necessary Functional Pathology Tests 
1 x 30 minute follow up Phone Consultation
LIFETIME ACCESS TO:
Real Time Group Coaching – Daily Health Tips, Live Video's, Q & A's during live Program launches
Daily Access to Professional Naturopathic Advice
Eating plans, Recipes & regular Meal Inspo
Bonus Coaching + Education Sessions – live streamed in the Facebook Support Group & never deleted

Access to Professional Naturopathically Formulated Supplements. *Supplements are recommended NOT compulsory and are at an additional co
When our hormones are out of whack, so is everything in your life…your happiness, relationships, moods, periods, dreams & even your ability to connect with your purpose & goals.
The 7 step hormone healing system is the complete road map, on not only how to balance your hormones & address those oh so common signs of adrenal fatigue, PMS, painful periods, weight gain & unruly monthly's but most importantly this is a step by step guide on how to take back control of your body, your thoughts & your life.
In this online program, you will learn how to reconnect with your intuition, form a sacred connection with your body & learn the language of your hormones which were only ever communicating your body's needs.
This program is different to any other 'hormone balancing' educational course out there
as it teaches you to love your hormones, understand their messages & learn how to
navigate your way through your body's needs.
It addresses the physical, emotional & spiritual causes of your hormones holistically, bringing your body back into balance not just in the short term but ensures you have the tools & knowledge to navigate the ever-changing stages of your hormonal cycles for the rest of your life.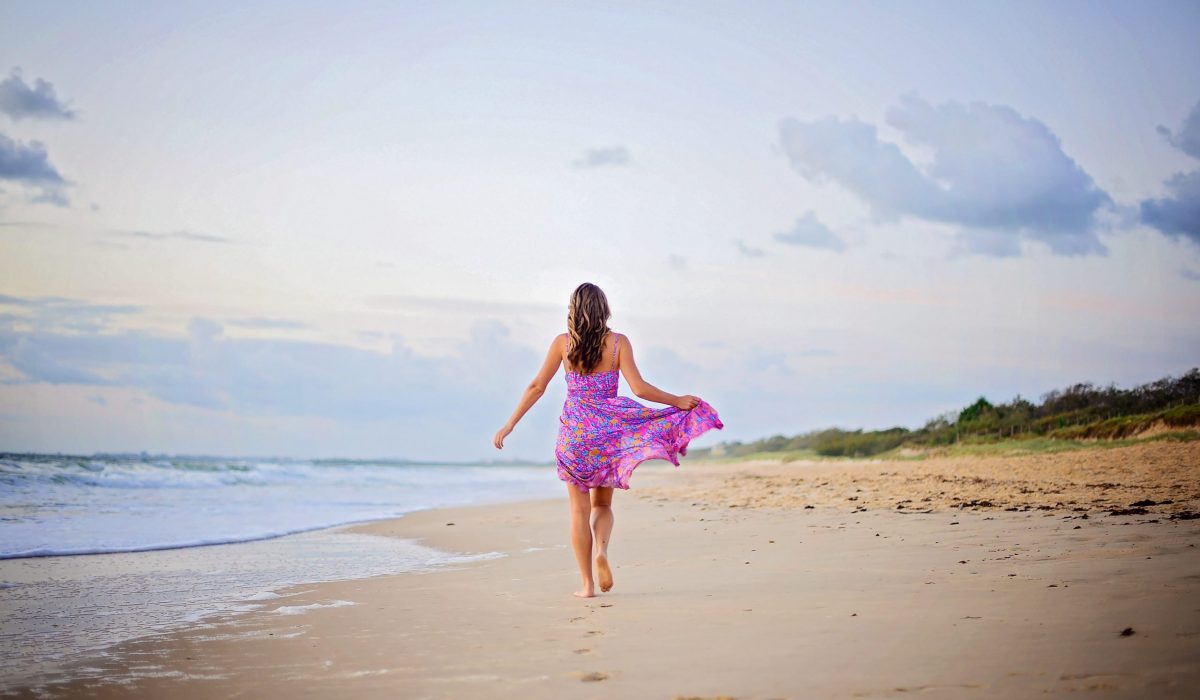 SO WHY JOIN THE HORMONE HEALING SYSTEM?
JOIN THE ONLINE PROGRAM AND GAIN ACCESS TO EVERY SINGLE PRACTICE AND HEALING PROCESS I IMPLEMENTED
TO OVERCOME STAGE 3 ADRENAL EXHAUSTION, PREMATURE OVARIAN FAILURE, CYSTIC ACNE, POLYCYSTIC OVARIAN
SYNDROME, LOSE 13KG AND TAKE BACK MY LIFE!
WHAT YOU WILL GAIN FROM THIS PROGRAM
HOLISTICALLY HEALING YOUR HORMONES – HOW DO WE DO IT?
To completely heal your body of the hormonal symptoms that have been getting you down, we need to holistically address all aspects of health by targeting the Physical, Emotional, and spiritual elements to regaining balance in your system.
EACH MODULE WE ADDRESS THESE 3 CRUCIAL PILLARS OF HEALTH:
The art of honoring your physical body in order to allow it to regain balance and heal
Science measures what we can test and see, so when it comes to addressing your physical body, you will be undertaking a range of health-promoting activities which have been shown to scientifically assist with the healing of your body.
This includes a range of lifestyle factors from dietary intervention, herbal medicine, nutritional
therapy, exercise, and so forth.
What is Emotional Evolution? This is the process formulated by Naturopath, Stacey Foat
You might be thinking, spirituality isn't really my thing or just straight out don't even know what it means, and that's ok. The Balanced Babes approach to spiritual growth is simply about connecting you back to your body and understanding that we are more powerful than we understand! Sacred ritual is an ancient practice which encourages us to slow down, take time out of our busy lives and feel into our body once more. When we strengthen your connection with your higher self, your intuition blossoms and your purpose in life becomes much clearer. You are able to make decisions based on your truest emotional needs and stop living in fear or at the mercy for the need of others approval.
WHAT'S INCLUDED IN THE HORMONE HEALING SYSTEM ONLINE PROGRAM?
FREQUENTLY ASKED SUPPLEMENT QUESTIONS
OPTIONAL UPGRADE – THE STEP HORMONE HEALING SUPPLEMENT SYSTEM
For those who are suffering the physical effects of hormone imbalances or have been diagnosed with hormonal or reproductive disorder conditions and are wanting to fast track the healing results of their physical symptoms, we highly recommend undertaking the Balanced Babes 7 Step Hormone Healing Supplement System
By purchasing the complete system upfront and  save $61!!!
Have the supplements there ready to go, keeping you accountable on your healing journey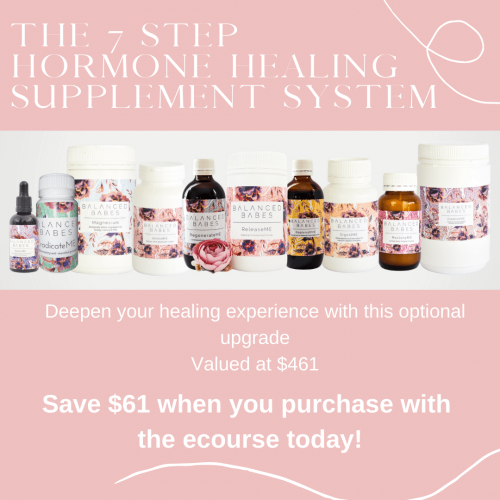 The art of honoring your physical body in order to allow it to regain balance and heal
Science measures what we can test and see, so when it comes to addressing your physical body, you will be undertaking a range of health-promoting activities which have been shown to scientifically assist with the healing of your body.
This includes a range of lifestyle factors from dietary intervention, herbal medicine, nutritional
therapy, exercise, and so forth.
What is Emotional Evolution? This is the process formulated by Naturopath, Stacey Foat
WHAT YOU'LL LEARN IN THE HORMONE HEALING SYSTEM
MODULE – ADDRESSING THE ADRENALS
You can't lose weight with adrenal dysfunction. You can't overcome low energy, inflammation or unstable moods if your stress response is activated.
To put it simply, you cannot heal from any health condition or hormone imbalance or eve find the simple joy in life when your body is reacting from the fight and flight response and your adrenals are fatigued.
In this module we heal your adrenals physically with the 3 R's to Recovery and work through the classic Personality types associated with Adrenal Dysfunction: The 'Busy Addict', 'Comparisonitis, 'FOMO', 'Invisibility', 'People Pleasing', 'Perfectionism', 'Rejection of Self' and 'Under Valuing Yourself'.
MODULE - TREATING THE THYROID
The Thyroid is our Master Hormone Regulating gland, if its not working properly, none of your hormones will stay in balance. 
Many women have undiagnosed Thyroid problems, in this module you will learn all of the necessary tests and how to interpret them, so that you can holistically treat and heal the most common causes of an under or over active Thyroid. 
MODULE  – CLEANSING THE COLON 
What baggage are you holding onto that's keeping you stuck? Separate from everything you desire?
MODULE – ERADICATING INFECTIONS
In this module we work on identifying underlying infections in your body, that you may not even know are there and eradicating these pathogens from your system, literally and energetically. Emotionally it's about reclaiming your identity, overcoming toxic relationships and learning how to set boundaries and protect yourself from Energy vampires. Learn how to reclaim your body and energy whilst also overcoming the 4 most common undiagnosed infections in your body which contribute to Adrenal dysfunction, auto-immunity, compromised gut health and hormonal imbalance.
MODULE  – LOVING THE LIVER.
Girlfriend, everything that is going wrong with your body physically; the fatigue, the weight, the skin, the mood swings, the painful periods, the bloating, the brain fog, it's all comes back to the liver. Learn all the tricks of the trade to keep your liver functioning optimally so that you can still live life in balance. Enjoy that wine, eat the damn cake, but still feel amazing inside and out with this liver life hacks. In this module we also address unexpressed anger and find ways to connect with your body in order to move this stuck energy through the body.
MODULE – DETERMINING DIGESTION
It all starts in the gut. Your gut is your guru!
The key to healthy hormones is a healthy gut AND the key to a healthy life is a healthy INTUITION!
Stop feeling bloated. Start feeling energized and excited by food and life! Build a gut microbiome that boosts your immune system and keeps your moods and hormones in check and learn how to trust your GUT INSTINCTS and let your internal compass help you create a life that you love.
MODULE – NAILING NUTRITION 
Learning how to Nourish the body and understanding the role of Emotional suppression with the use of foods.
Utilize the Emotional Evolution technique to overcome from food addictions and unhealthy eating habits. Heal your relationship. Foods either harm us or heal us, in this module you will learn how to recognize what affect certain foods and diets are having on your body and take the guess work out of knowing what you can and can't eat for the rest of your life.
MODULE – EMOTIONAL EVOLUTION 
Sick to death of always being cranky, or at the mercy of everyone else's projected wounds, opinions and fear in these crazy uncertain times we face? This module teaches you how to use your feelings as a catalyst for identifying what you actually need and desire in your life and how to change our beliefs and heal from the past in order to tap into our creative feminine energy and create the life of our dreams. It's about identifying limiting beliefs which are keeping us stuck in our subconscious programing and evolving from reoccurring situations that do not serve us.
This module contains specific treatment protocols and recommendations for specific hormonal related conditions which you can additionally implement to support your individual complaint or condition
Beyond the 7week program, integrating back into day-to-day life, this module is all about ensuring you can balance your new found sacred self-care skills with everyday life and maintain all the results you achieved while on the program
Women ages 18 and over, who want to learn the art of understanding their body and how to take charge of their hormones. This is NOT just a quick fix power challenge, although you can absolutely go hell for leather over the course of the program and implement absolutely everything strictly for the 7 weeks and receive huge changes to your body and health, however the idea of this program is to expose you to as many new life supportive, hormone balancing health hacks and teach you how to incorporate these into your life on an ongoing basis so that your results stick for life!
Pregnant or Breastfeeding mama's absolutely can join the program, although there would be some activities you would just have to sit out until your body is ready. These are all clearly indicated through the program.
PHYSICAL SIGNS OF HORMONE IMBALANCES
weight gain
a hump of fat between the shoulders
unexplained, and sometimes sudden, weight loss
fatigue
muscle weakness
muscle aches, tenderness, and stiffness
pain, stiffness, or swelling in your joints
increased or decreased heart rate
Excess sweating
increased sensitivity to cold or heat
constipation or more frequent bowel movements
frequent urination
increased thirst
increased hunger
decreased sex drive
depression
nervousness, anxiety, or irritability
purple or pink stretch marks
blurred vision
infertility
painful periods
thinning hair or fine, brittle hair
dry skin
puffy face
rounded face
frequent infections
Inflammation
Headaches
Migraines
Fluid retention
Hot flushes
Mood swings
Food intolerances
Nausea
Vaginal infections
HORMONAL SIGNS OF EMOTIONAL AND SPIRITUAL IMBALANCES
You are always cranky at your children and husband
You are bored with life
You hate how you look
You have ZERO sex drive
Your work doesn't fulfill you
You live in a constant state of fear and anxiety
Scrolling through social media constantly triggers you
You blame everything on your partner or kids
You have had major fallouts with friends or family members
You're stuck in a rut of overeating, over drinking and shaming yourself
Everyday you promise yourself to 'do better' but you don't know how to
Your body simply does not respond to any health kick you try
You are desperately unhappy with how you feel
You're angry all the time but don't really know why
THIS PROGRAM IS ALSO SPECIFICALLY USEFUL FOR WOMEN STRUGGLING WITH CONDITIONS SUCH AS:
Adrenal Fatigue
Endometriosis
Poly cystic ovarian syndrome
Auto-immune conditions
Menopause
Infertility
Fibroids
Adenomyosis
Hashimoto's Thyroiditis
BELIEFS OF A BALANCED BABE?
She understands that her hormones control everything in her world – happiness, libido, energy, how she looks
She's in touch with her emotional needs, she knows what she wants & how to ask for the help & support
She's comfortable in her body & loves how it looks & feels
She's Confident & Connected to her sexual energy….she has a libido!!!!
She's excited by life and ready to take on the world
She doesn't feel guilty about scheduling self-care and putting herself first sometimes
She is assertive at setting boundaries and honouring herself
"BATTERED AND BROKEN TO BALANCED BABE"
COME JOIN ME ON THIS TRANSFORMATIONAL JOURNEY TODAY!
FROM ONE CRAZY HORMONAL GAL TO THE NEXT….
To all my crazy bia'ches (beautiful babes) who seriously feel like they are losing the plot sometimes, I just want to say,…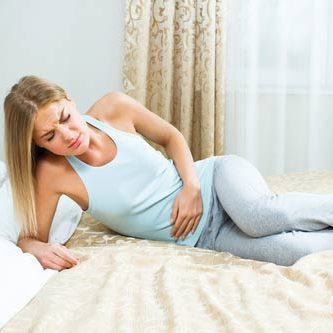 IS OESTROGEN DOMINANCE RUINING YOUR LIFE?
Is Oestrogen Dominance ruining your life? Oestrogen dominance is certainly fast becoming one of the latest 'health or rather poor health trends'…